Capco RE Advisors Inc. has been in the property management field for over 40 years. The company manages properties as if they were its own and represents owners' interests first and foremost. Notwithstanding, we recognize the necessity and duty to maintain a commercial property in a manner that makes tenants feel at home so that they continually renew their leases.
Capco RE Advisors Inc. supplies property management statements to owners on a monthly basis with all the necessary relevant financial documentation.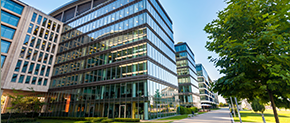 Capco RE Advisors Inc. will act for either purchaser or seller, tenant or landlord in exclusive representation of their needs, whether it be for leasing, purchase or sale.
Capco RE Advisors Inc. has the expertise to develop investment analysis reports for sale and/or disposition of investment property.
Whether you are looking for an executive suite, retail space, or industrial warehouse, we can provide you with the right options.